Dr Martens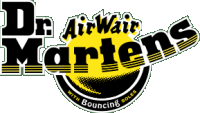 Dr. Martens is an English footwear and clothing brand. The footwear is distinguished by its air-cushioned sole, upper shape, welted construction and yellow stitching.
Dr. Martens have been the choice of footwear among various groups in British culture: In 2006, Griggs' 1460 Dr. Martens AirWair boot was named in the list of British design icons which included Concorde, Mini, Jaguar E-Type, Aston Martin DB5, Supermarine Spitfire, Tube map, World Wide Web and the AEC Routemaster bus.
Here we have popular Dr. Martens safety boots and shoes like the Maple Steel Toe and more in a variety of leathers, textures and colours.