ORN Workwear
ORN Workwear offer high quality clothing, including polo shirts, sweatshirts, fleeces, jackets and trousers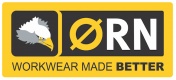 Welcome to our Orn Workwear collection, where style meets functionality! Orn Workwear is a leading brand in workwear clothing, known for its high-quality, durable and stylish clothing designed for a range of professions.
Whether you're looking for hard-wearing work trousers, multi-functional polo shirts or protective hi-vis jackets, our Orn Workwear range has got you covered. Each garment is carefully designed to meet the needs of modern workers, combining style and comfort with practical features that keep you safe and productive on the job.
From construction workers and landscapers to electricians and mechanics, our Orn Workwear range is suitable for a variety of professions. All our garments are made using high-quality materials, ensuring they are durable, comfortable and long-lasting. With triple stitching on all main seams, you can be confident that they will withstand the toughest working conditions.
At BK Safetywear, we pride ourselves on providing our customers with a range of workwear that is both functional and stylish. Browse our Orn Workwear collection today and find the perfect workwear solution for your needs!
ORN Workwear offer ever more range and colour options in woman's fit and sizing.
ORN Workwear has continued to expand its product offering with a new entry level t-shirt, as well as a high performance wicking polyester polo shirt. There are also additional colours in the very popular two tone Silverswift collection.
Verified Customer Reviews From Across the Site