Vegan Approved Safety Footwear Range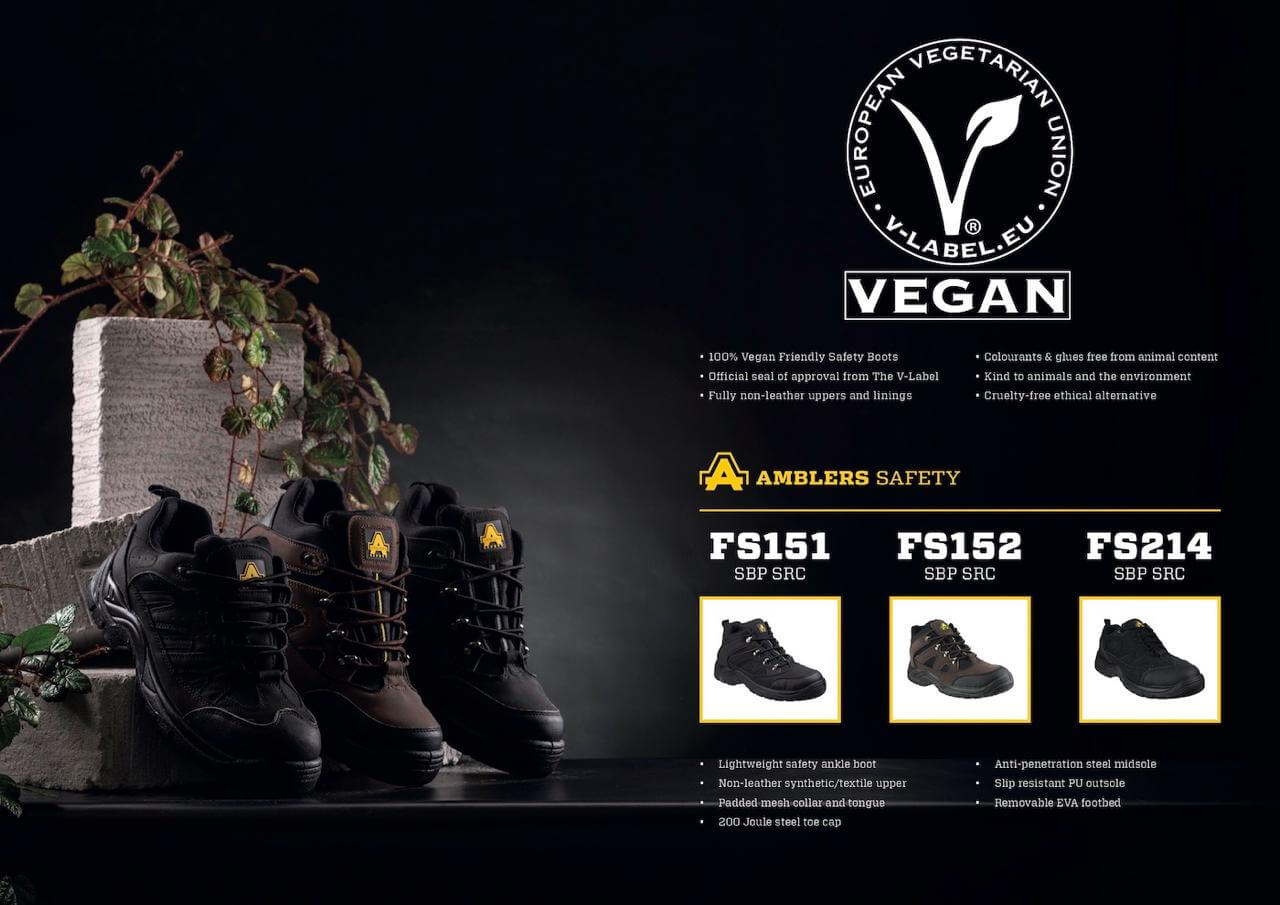 We are now selling Amblers Safety vegan footwear. Please read this release from Footsure about these products.
We're pleased to announce that we've landed the seal of approval from the European Vegetarian Union with three of our Amblers Safety core line protective toe capped products successfully earning the internationally recognised 'V-Label Vegan' symbol. This recognition comes at a time when the high street has had to adapt with incredible speed to meet the needs of a transitioning market.

The registered 'V-Label' symbol promotes transparency and clarity with products meeting a standardised criterion in the labelling of vegan and vegetarian products making it one step easier for vegan workers and ethical companies to make decisions on personal protective equipment.

For safety shoes to be considered vegan, they must be made with no animal-derived products in any part of the process, including adhesives and colourants. This means that leathers, wool, feathers and fur are completely out and replaced by innovative synthetic alternatives. Protective models, FS151, FS152, FS214 have the vegan accreditation due to being crafted from a clever combination of long-life microfiber, synthetic PU and breathable mesh whilst being infused with all the necessary safety features including a steel toe cap and midsole; looking and feeling as comfortable and practical as the non-leather equivalent, breaking down the stigma for vegan workers.

Sales Director Paul Wheeler says, "We strive to create a diverse and inclusive variety of safety footwear options for the consumer to choose from and develop innovative solutions for an evolving market place. It's in our DNA to offer clarity, transparency and confidence in what the consumer is purchasing. There is a considerable gap in the market for affordable Vegan workwear to the everyday tradesperson and we are one step closer to fulfilling that requirement with clarity."
These are available to buy today.
You can see our growing list of vegan footwear here